Breast Augmentation Surgery
Breast augmentation, sometimes also referred to as a 'boob job' by patients, involves using breast implants or fat transfer to increase the size of the breasts. it is also called Augmentation Mammoplasty.
Why Surgery is done
Restore breast volume after body weight loss, pregnancy, injury or tumour surgery
Improve natural breast size symmetry
Increase fullness and projection of the breasts
Improve balance of the breast and hip contours
Enhance your self image and self confidence
Treatment
The treatment should be carried out by an aesthetic or breast surgeon well versed and experienced in the field of breast augmentation surgery for better outcomes. The surgeon will choose 1 of three incisions to do the surgery (see above) so that the scarring will be minimum and not obviously visible.
Under the arm (axillary)
Under the nipple (peri-areolar)
Under the breast (infra-mammary)
The surgeon will place the breast implants either under the chest muscle (sub-muscular) or under the breast tissue (sub-mammary). The surgeon will discuss the type and size of implant with you before the surgery.
After surgery, there will be some fine sutures and the breast will be bandaged to reduce swelling and bleeding. You should be able to return home on the same day or choose to stay overnight at a hospital if required.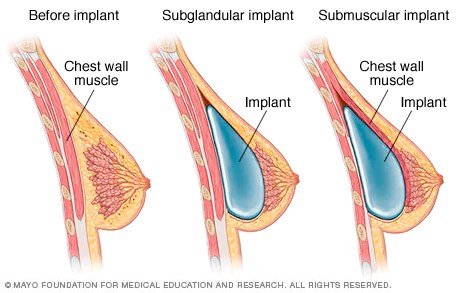 Post Operative Care
Following surgery, it is advisable do as little as possible to reduce swelling or bleeding. It may be difficult and uncomfortable to raise your arms including washing your hair
Avoid driving during the first week because your reaction time or mobility will be affected. If you are on any strong pain medication, you should avoid driving long distances for the first few weeks because the medicine may make you drowsy and impair your reflexes
After 7-10 days, you will notice more freedom in the arm movements and you may begin gentle stretching exercises to keep your muscles agile
Stay out of direct sunlight and artificial UV for around 1 year to prevent sunburn because the skin in this area will be thinner after surgery. Use a sunscreen if necessary
After the first month, you may begin low impact exercises
Click to watch Tiffany Sun video on Breast Firming Exercises
A compression non-wired bra may be worn 24 hours a day for a minimum of six weeks after your breast surgery. Depending on the rate at which you heal, a breast augmentation recovery bra may need to be worn after three months. Your surgeon should be able to advise you on the appropriate post-operative care plan.
---
Disclaimer. TELEME blog posts contains general information about health conditions and treatments. It is not intended to be a substitute for professional medical advice, diagnosis or treatment. The information is not advice and should not be treated as such.
If you think you may be suffering from any medical condition, you should seek immediate medical attention from your doctor or other professional healthcare providers. You should never delay seeking medical advice, disregard medical advice, or discontinue medical treatment because of information on this website.
We are sorry that this post was not useful for you!
Let us improve this post!
Tell us how we can improve this post?