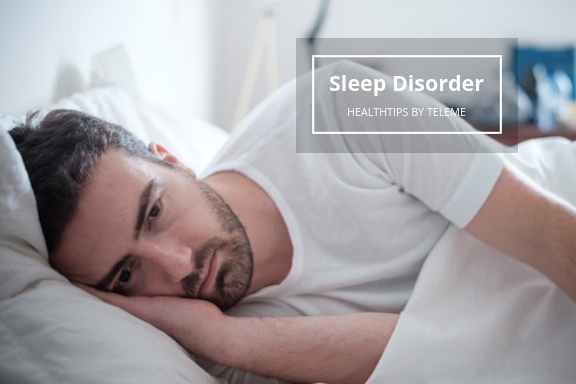 The normal sleep cycle consists 4 stages of non-REM sleep cycles and 1 cycle of REM (Rapid Eye Movement) sleep throughout the night. When your sleep cycles are disturbed, you wake up feeling tired and difficulty concentrating during the day.
NREM sleep. These four stages start from very light sleep during Stage 1 down to very deep sleep in Stage 4. Throughout NREM sleep, there is little muscle activity and it is very difficult to wake someone in stage 4 sleep. Deep sleep helps to restore your body and muscles from stresses of the day
REM sleep: This is the stage of sleep in which most dreaming occurs and our eyes are thought to move in relation to the visual images of our dreams
Each cycle lasts around 90 minutes consisting of the 5 stages of sleep.

During the night, the amount of time spent in each stage varies; we spend more time in stages 3 & 4 in the beginning of the night and more time in REM stage towards the morning. Increasing age also changes our sleep patterns as we require less time sleeping while babies spend 50% sleep time in REM stage.
Our internal clock situated at the hypothalamus dictates our normal circadian rhythm which helps us stay awake during the day and gets us ready to sleep at night. However, this rhythm can be disturbed by travelling through different time zones (jet lag) or doing shift work. Psychological issues such as stress or depression can also disturb your sleep pattern.
How can sleep deprivation affect health or quality of life?
Good sleep is important for healthy brain function such as thinking, memory, learning, decision making and creativity
Important for physical health such as:
Healing and repair of the body
Growing in children
Maintaining balance hormones (growth hormone)
Sleep deprivation results in poor blood sugar control
Obesity risk in sleep deficiency
Ensuring good immune system
Common Sleep Disorders
Common sleep disorders include insomnia and Obstructive Sleep Apnoea (OSA)
Insomnia
Image Source: iStock
Insomnia is the inability to fall asleep or maintain sleep or wake up too early in the morning and feeling tired. The usual time to fall asleep is 10-20 minutes.
The causes can be:
Primary (not related to any medical issues)
Secondary (related to medical issues such as depression, stress, anxiety, chronic pain from arthritis, asthma, cancer or side-effects of medication)
Treatment involves practising good sleeping habits such as:
Going to bed (and waking) at the same time every night
Follow the same routine to help you relax before sleep
Avoid playing with light emitting devices just before sleep as they stimulate the brain and makes it harder to fall asleep
Try to avoid a heavy meal prior to bedtime
Avoid caffeine 3-4 hours before sleep
Avoid vigorous exercise close to bedtime as the adrenaline release stimulates the brain and body making it difficult to fall asleep
Obstructive sleep apnoea (OSA)
OSA is the most common type of sleep apnoea. Around 15-20% of adults experience OSA and it is associated with being overweight, older age groups, smokers, rhinitis, pharyngeal reflux and in males. During sleep, our muscle tone relaxes and the airway lumen diminishes which requires more respiratory effort. This increase in respiratory effort results in negative airway pressure causing the airway soft tissue to flop back and obstruct the airway.
Image Source: Science based medicine.org
Symptoms of OSA
Most common symptoms include snoring and restless sleep with periods of silence (apnoea) followed by sudden gasping and even arousal from sleep. This causes poor quality sleep which results in early morning headache, unexplained daytime sleepiness, trouble concentrating, mood changes such as irritability and poor work performance.
There are also heath implications as they are more likely to get hypertension, heart disease, stroke, diabetes and involved in accidents.
Investigations
Image Stock: iStock
Important to have a complete examination by an ENT doctor to check BMI, neck circumference, nose and oral cavity to look for any anatomical obstruction by any polyp, septum deviation, tongue or lymphoid tissue.
Sleep study (PolySomnoGram or PSG) is the 'gold standard' to diagnose OSA and can be done at home by technicians who will do a home visit. Some other parameters which can be measured include heart rate, oxygen saturation, airflow and sleeping position. The Apnoea: Hyponoea Index (AHI) is used to grade the severity of the sleep apnoea depending on the number of 'events' detected per hour of sleep.
An 'apnoea event' is defined as complete cessation of airflow for at least 10 seconds while 'hyponoea event' is defined as 50% decrease in airflow for at least 10 seconds or 30% decrease in airflow with associated decrease in oxygen saturation or an arousal from sleep.
Treatment options
Lifestyle modification such as losing weight, gentle regular exercise (read 'How much should we exercise daily?') and avoid stimulants such as caffeine, alcohol or light emitting devices before sleep.
Treat any nasal symptoms such as allergic rhinitis
Continuous Positive Airway Pressure (CPAP) device
Surgery such as Cautery Assisted Palatal Stiffening Operation (CAPSO) or mandibular advancement procedure may be helpful