Coronavirus and Other Viral Infection Outbreaks: What you need to know
Coronavirus are a large family of viruses which can cause illness ranging from the common cold to more severe disease like pneumonia.
These are the common symptoms
Fever
Dry cough & flu-like symptoms
Difficulty breathing
General body aches and malaise
Diarrhoea & other gastrointestinal symptoms
Respiratory distress syndrome
Kidney failure (late symptoms)
Click to watch Astro Awani report in Malay on Coronavirus: Apa yang kita perlu tahu
Follow these basic principles to reduce the risk of transmission of any acute respiratory infections;
Avoid close contact with people or areas with people suffering from acute respiratory infections
Avoid unprotected contact with farm or wild animals
People with symptoms of acute respiratory infections should practice cough etiquette (which is to avoid going to crowded areas like office or school, cover coughs or sneezes with disposable tissues and wear masks to avoid droplet spread to other people)
Practice frequent hand-washing with soap and water or sanitisers especially after direct contact with ill people or their environment such as tables and chairs. This is equally as important as wearing a mask to prevent spread of the virus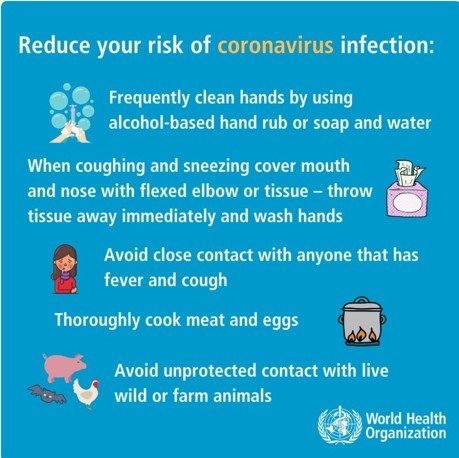 It is possible to interrupt virus spread provided we are able to detect disease early, isolate and treat cases, trace contacts and promote social distancing measures. We need the cooperation and civic-mindedness of every single person to overcome this disease spread
If you have symptoms of the virus and have been in contact with someone with Coronavirus or been in a country affected with the disease such as Wuhan, you need to present yourself to one of the designated hospitals who is able to treat you. An infected person will be observed and treated so that he or she does not develop complications such as pneumonia or respiratory distress. If the infected person improves, the person can be discharged from hospital if the swab shows no presence of Coronavirus on 2 separate occasions within a 24 hour period.
A person who has been in contact with an infected person or been in a country affected with the disease such as Wuhan (but has NO symptoms and tested negative for the Coronavirus), should self quarantine himself or herself for 14 days at home and NOT go to crowded places such as the office or school. If the person develops symptoms during this quarantine period, he or she should go to any of the designated hospitals for treatment.
Click to watch BBC Video on How Virus Spread
Prevention of virus spread
The virus spreads from saliva droplets from coughing or sneezing by infected individuals. As such, take the following precautions
Wear face masks to limit virus spread from sneezing or coughing
Wash your hands regularly using soap & water or sanitiser
Disinfect frequently touched surfaces like door handles, table tops and toys
This is the list 26 MOH ADMITTING HOSPITALS for 'PUI nCoV & Confirmed nCoV'
(PUI is Person Under Investigation). These hospitals have appropriate and adequate isolation facilities with a core team of health workers trained in managing patients with nCoV
Hospital Tuanku Fauziah, Kangar, PERLIS
Hospital Sultanah Bahiyah, Alor Setar, KEDAH
Hospital Sultanah Maliha, Langkawi, KEDAH
Hospital Pulau Pinang, PENANG
Hospital Raja Permaisuri Bainun, Ipoh, PERAK
Hospital Sungai Buloh, SELANGOR
Hospital Kuala Lumpur, WP
Hospital Tuanku Jaffar, Seremban, NEGERI SEMBILAN
Hospital Melaka, MELAKA
Hospital Sultanah Aminah, Johor Bahru, JOHOR
Hospital Tengku Ampuan Afzan, Kuantan, PAHANG
Hospital Sultanah Nur Zahirah, Kuala Terengganu, TERENGGANU
Hospital Raja Perempuan Zainab II, Kota Bahru, KELANTAN
Hospital Sultan Ismail Petra, Kuala Krai, KELANTAN
Hospital Tumpat, KELANTAN
Hospital Queen Elizabeth I, Kota Kinabalu, SABAH
Hospital Duchess of Kent, Sandakan, SABAH
Hospital Tawau, SABAH
Hospital Wanita dan Kanak Kanak Likas, SABAH
Hospital Lahad Datu, SABAH
Hospital Keningau, SABAH
Hospital Umum Sarawak, Kuching, SARAWAK
Hospital Miri, SARAWAK
Hospital Bintulu, SARAWAK
Hospital Sibu, SARAWAK
Hospital Labuan, WP LABUAN
---
Disclaimer. TELEME blog posts contains general information about health conditions and treatments. It is not intended to be a substitute for professional medical advice, diagnosis or treatment. The information is not advice and should not be treated as such.
If you think you may be suffering from any medical condition, you should seek immediate medical attention from your doctor or other professional healthcare providers. You should never delay seeking medical advice, disregard medical advice, or discontinue medical treatment because of information on this website.
We are sorry that this post was not useful for you!
Let us improve this post!
Tell us how we can improve this post?