Updated on October 20, 2020
Commonly asked questions on Fertility
How do women have periods?
How long is a normal period cycle?
What happens to my uterus during my period?
1.Normal Pelvic Anatomy
Female reproductive organs consist of uterus (womb), Fallopian tubes and ovary. The uterus / womb is a hollow, peared-shaped organ with thick muscular wall. It is subdivided into corpus (body) and cervix (neck). The top portion of corpus is called fundus. The inner part of corpus is the cavity, where the embryo/foetus develops during pregnancy. The inner lining of the cavity is called the endometrium.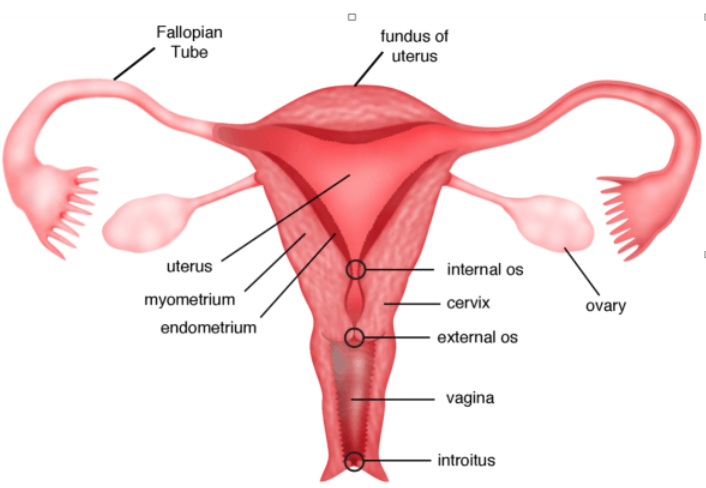 Every month, endometrium thickened in preparation for potential pregnancy and sheds during menstruation if pregnancy does not occur. The cervix (neck) allows sperm to enter the corpus during fertile period of a woman. The Fallopian tubes are the channel that connects the ovaries to the uterus.
The inner lining of the fallopian tubes is made up of finger like projections called the cilia. These cilia are important in assisting the movement of the female eggs (oocyte) towards the uterine cavity and the sperms towards the oocytes. The ovary are oval-shaped paired glands that are attached to each sides of the uterus. Every month, one of the ovaries releases an oocyte/female egg. The ovary also produces female hormones oestrogen and progesterone.
Click to view HowCast video on How to Know when you are ovulating
2. Normal menstrual cycle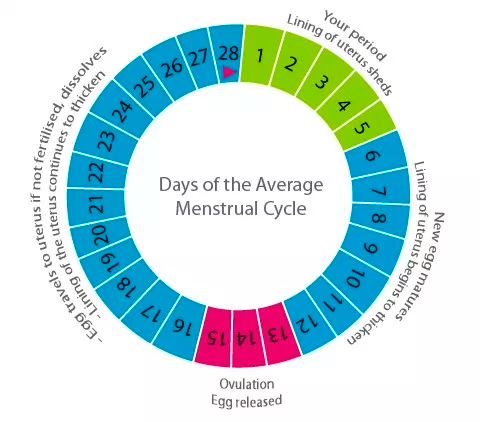 Normal menstrual cycle length (from beginning of one period till the beginning of next period) average between 21-35 days. If you are menstruating regularly, most probably you are ovulating.
The first day of your bleed is considered Day 1 of your menses. A woman may bleed for 4-7 days, but it varies for every woman. During the bleeding phase of your menses, the endometrial lining is shed and becomes thin. The ovary now produces female hormone called Oestrogen, which slowly thickens the endometrial lining. At the same time, the ovary also produces and develops few early stage eggs or oocytes.
Subsequently, only 1 egg or oocyte will mature every month. By mid-cycle (approximately day 14 in a woman with 28 days menstrual cycle), the matured egg or oocyte will be released into the Fallopian tube. This is also called ovulation. The ovary now will secrete female hormone called Progesterone, which will support the pregnancy if it happens. If there is no pregnancy, the endometrial lining will began to shed and menstrual bleeding will start and the woman will be in her Day 1 menses again.
3. How Do I Get Pregnant?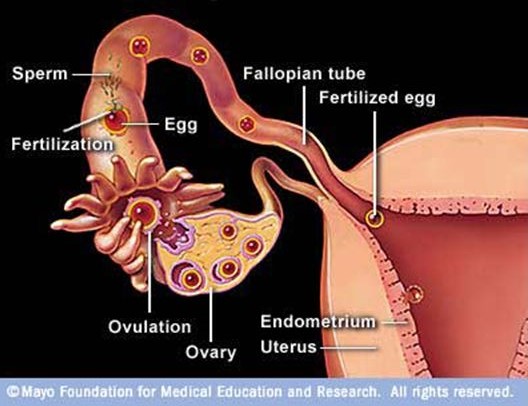 Pregnancy occurs when the sperm meets the egg or oocyte in the fallopian tube. Out of millions of sperms that reaches the oocyte, only 1 sperm gain entry into the oocyte. Once inside, the genetic materials (building blocks for human beings) of the sperm and the oocyte will merge to form the embryo (early stage baby). The embryo will then move through the fallopian tube to get implanted in the endometrial cavity.
4. What is my chances of getting pregnant?
Generally, the chances of getting pregnant decline with age. The older the women gets, the lesser her chances of getting pregnant, even with advanced techniques like IVF (test tube).
5.If I don't get pregnant, is there a problem with me?
Not necessarily. Nearly half of infertility are caused by male/husband's problem(male infertility). Thus, it is important that both partners undergo evaluation for infertility.
6.How long should I be trying before getting help to get pregnant?
If you do not have any known factors that can lead to difficulty in getting pregnant, you and your partner can try up to 1 year before getting some help. You should try to have regular unprotected sexual intercourse around the time of ovulation.
7.Where can i get help?
You could see your own family doctor to get initial advise. You could also get an appointment to see a fertility specialist. There are abundance of information available in the internet about infertility.
Download Teleme's mobile app and chat with a specialist right now

---
Disclaimer. TELEME blog posts contains general information about health conditions and treatments. It is not intended to be a substitute for professional medical advice, diagnosis or treatment. The information is not advice and should not be treated as such.
If you think you may be suffering from any medical condition, you should seek immediate medical attention from your doctor or other professional healthcare providers. You should never delay seeking medical advice, disregard medical advice, or discontinue medical treatment because of information on this website.
We are sorry that this post was not useful for you!
Let us improve this post!
Tell us how we can improve this post?