Updated on November 4, 2019
TELE-CONSULTATION: WHAT AND HOW EFFECTIVE IS IT
We often have a mental image of a person walking into a clinic when someone says that they're "visiting the doctor". We'd imagine that the doctor will perform physical examination on the person, diagnose the illness, then prescribe medication if needed.
Now, try to picture the "visit" as a virtual one: a person heads to a website, enters a chat room, and starts chatting with a doctor. The doctor replies the texts with medical advice, and sends an attachment of a signed prescription for the medicine needed. Sounds futuristic, isn't it?
Except that the future is actually now.
Malaysian Director General of Health, Datuk Dr Hisham commenting on Malaysian Healthcare Apps September 2018, "There is also the challenge of uberisation of healthcare where patients are linked to healthcare providers via a technology platform. This may range from a physical service to a complete online virtual healthcare services, even across the border. These require regulatory framework and practising guidelines to ensure patient safety, quality of care, confidentiality and accountability."
You've probably heard of tele-consultation in its other names, such as tele-diagnostics or tele-medicine. The concept of getting medical advice and prescription from a doctor without being physically present in a clinic may still sound foreign for some Malaysians, but this method of obtaining diagnosis and medication is predicted to increase in popularity by the millions before we reach year 2020.
How is it done?
Tele-consultation is as simple as the example illustrated earlier. Go online, head to the website that provides online medical consultation, and chat with the doctor as you would in an actual clinic. In some cases, a video call could even be done so you'll be talking to the doctor in person – minus the physical examination, of course. The doctor will then explain the illness to you, or provide advice on how to deal with it. You'll be given a prescription, which you can use to obtain the proper medication from any pharmacy near you. Some platforms will even deliver it to your home or office.
In some cases when a physical examination is required due to the severity of the illness, or if certain symptoms need physical examination, an appointment can be fixed on the spot as well.
How effective is it?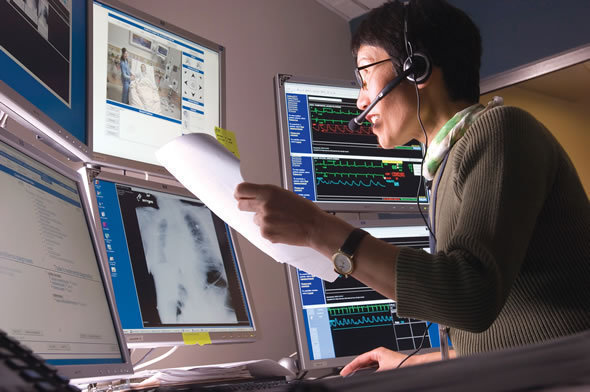 A few studies have been conducted to find out if tele-consultation is as good as it sounds. One study tested its effectiveness in three different medical fields (cardiology, dermatology, and diabetology) and found that tele-consultation is rated as high as 95% in usefulness.
It has proved to be most useful in the field of cardiology as management of emergencies is much better than physical examinations. When it comes to dermatology, they've reported more accurate diagnosis as well.
With such high effectiveness in specialised fields like diabetology, it's believed that tele-consultation will be proved even more useful when it comes to dealing with non-chronic illnesses, most of which will not require physical examinations.
What are the benefits?
No more numbers and queues! That's one of the major benefits of tele-consultation. As a patient, you'll save lots of time as you'll have direct access to doctors almost immediately. This is great news for patients with disabilities, or those who live in rural areas. As long as there's a solid internet connection, you'll be able to get medical attention really soon.
It also saves you a lot of money by reducing the unnecessary visits to the emergency rooms. Sometimes, people get admitted for mild symptoms that can be easily controlled by themselves without the need for medication. However, the emergency attention and consultation given often result in a hefty bill. Through tele-consultation, patients can have their symptoms checked immediately at a minimal cost without incurring travel expenses unnecessarily.
Of course, tele-consultation is not meant to totally eliminate physical examinations. Physical care and consultation is still required for chronic illnesses, or for symptoms that require face-to-face examinations. Tele-consultation exists with the aim to provide more people with the proper healthcare that they need. Real time care can be given to more patients – online and offline – as waiting rooms have shorter queues for emergency cases, and outpatient cases can be settled without the need for people to go through the hassle of traffic and queues.
As such, with an effective solution for tele-consultation, patients who tend to forget/miss their regular checkup and appointment can be reminded through this system and soon our healthcare sector will move towards preventive health services instead of treating a disease.
Download Teleme's mobile app and chat with a specialist right now

---
Disclaimer. TELEME blog posts contains general information about health conditions and treatments. It is not intended to be a substitute for professional medical advice, diagnosis or treatment. The information is not advice and should not be treated as such.
If you think you may be suffering from any medical condition, you should seek immediate medical attention from your doctor or other professional healthcare providers. You should never delay seeking medical advice, disregard medical advice, or discontinue medical treatment because of information on this website.
We are sorry that this post was not useful for you!
Let us improve this post!
Tell us how we can improve this post?