Available 24/7 365 and able to reach out to patients anytime, anywhere. The patient's mobile app will have your Centre Profile Address linked to Waze or Google maps (and Centre Phone Number) available for patients to click and find you. Health Practitioners can edit their own profile anytime to update any new changes
USER INVITE

Personalise your consumer onboarding experience by providing your unique digital invitation

MEDICAL JOURNEY

Manage all your consumer details and activities within a single application.

EASY TUTORIAL GUIDE

Softcopy & video tutorial on various features and content is made available to make the journey smooth & easy for users

PLATFORM LIVE SUPPORT

Support available for any platform related issues

HIPAA COMPLIANT PLATFORM

Deployment of resources in compliance with the healthcare needs for privacy & security
Have your Centre Profile featured in the app along with the Address (linked to Waze and Google map), Centre phone number as well as your Treatment Focus and List of Services. 
Consider this as your own website which you can edit and update anytime for FREE by yourself.  There is NO need to depend on external website host provider to update your profile
Ease your management of user's details and transactional activities using this unique healthcare CRM feature.
Store all information on any user for easier retrieval and tracking of historical activities.
Ability to onboard your own users with a Customised QR code. Your users will ONLY see your brand.
Do not need to worry that your users will switch to another brand any more!
Communicate with your patients and maintain patient loyalty using the options of Text Chat or Video-call.  Your assistant or you can send your List of Services or Health Articles for your patients to read
You have the option to fix your own charges for the online chat or video-call.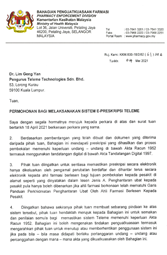 Write Lembaga Farmasi compliant e-Prescription for Refill Medication for your patients with the convenient option of home delivery
*for Verified Doctors with own Digital Signature only
Make you Centre presence visible on TELEME's Health Tips website.  Generate additional leads to your Centre.
Increase exposure to your brand and an opportunity to get traffic from nearby users.
Health Practitioner Subscription
Limited Time Offer!
RM150
per month only!
Web Portal Access (HP Login)
Featured Listing - Outlet Location
SMS & Email Notification Alert
Chat Messaging
Video Call - Consultation
Appointment Setting - Reminder
And so much more!
Note:
Limited Time offer of RM150/month applicable for 6 months subscription only.

Normal subscription fee at RM300/month.

Additional surcharge between 2-3% will apply if payment made using an online payment gateway.