A) Get Started: How to sign up on Teleme
Log on to teleme.co
Click on "Sign up" or "Get started" to create a new account
or
Click on "Get started with Facebook"
If you need any help on how to use Teleme's platform or encounter any issues on Teleme's platform, talk to us using the "Customer Live Support" system. If our agents are unavailable, please leave your name and your email address for us to get back to your query.Do note that the customer live support is not a platform to get your health/medical questions answered or to do any online consultations with doctors and is purely for issues on Teleme's platform.
You'll be directed to Teleme's sign up page. To sign up, enter your name, email address and password (you'll be directed to confirm your password one more time). Password must be at least 8 characters.
Check if your information is correct. You can still amend it before signing up. Once you've confirmed that your information is correct, click "Sign me up!"
Now, you're good to go and start using Teleme! You can go through our tutorial or continue reading here!
To view or edit your profile, click on the button on the top-right corner of the dasboard (Profile picture & your name).Here, you're also able to view your medical journey, payment history or change/reset your password. You can filter and view your medical journey by prescription, consultation, lab package order (health screening with Pathlab), doctor's note and referral letter.

Next, you can edit or update your profile by uploading your profile picture, date of birth, gender, identification number, phone number, home address and your background (such as past medical history, allergies, medication, family history and social history).

Identification number is important to update in order to purchase medication prescribed by doctors on Teleme with our partner pharmacies (Caring & Alpro) and to purchase lab package (health screening) on Teleme. Updating your phone number is important as well to receive SMS notification on messenger service and first message from new doctor) and your home address for medication delivery.

Click on the bell icon on the upper-right of the dashboard to see notifications such as "Find me a doctor" reply and confirmation on video call slots.
Here, you can find Teleme's 5 main features:

i) Find Me a Doctor: This feature helps connect you to the most suitable health practitioner based on your condition. The doctor will get back to you within minutes to a few hours.

ii) Search Practitioner: Search and select a doctor/specialist from our panel of certified health practitioners.

iii) Get Medication: View the list of pharmacies available and order your prescription (after getting an online prescription from doctor) or refill prescription.

iv) Order Lab Package: Select and purchase lab package from our list and head to the nearest Pathlab branch to take your blood sample. Receive your results through Teleme and opt to tele-consult a doctor to explain your result.

v) Your Records (Medical Journey): View your appointments, prescriptions, lab reports, doctor's notes and "Find me a doctor" requests.

View your new messages here from doctors or click on the blue tab to go to chat messenger window.
B) Find me a doctor feature
Click on "Find me a doctor" button in green and describe your symptoms as precise as possible. Next, wait for a doctor on Teleme to reply to you and then you can start to engage in conversation with the doctor through Teleme's chat messenger.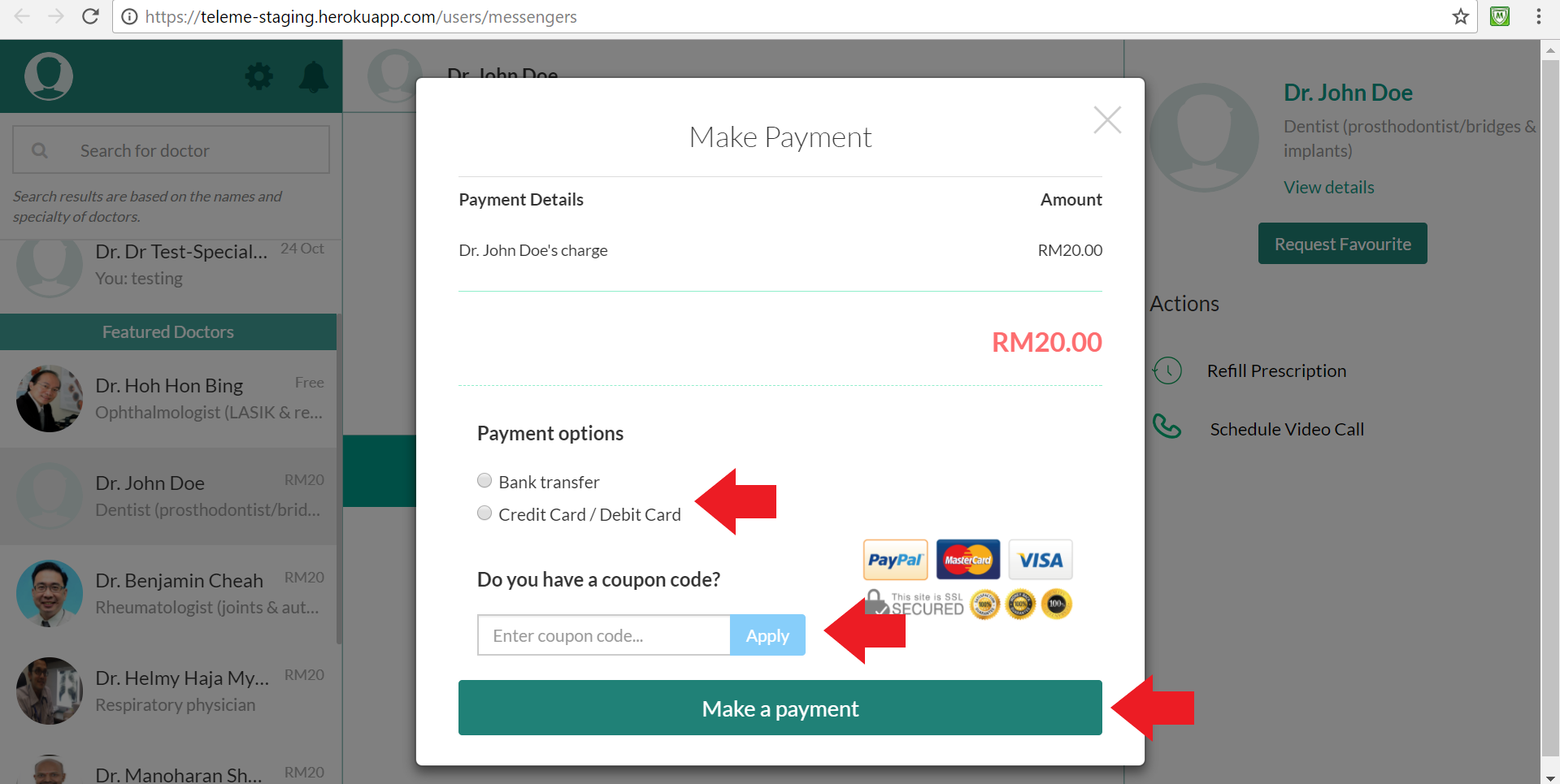 To chat with a doctor via chat messenger, click on pay and pick your payment option, key in a promo code (if any) and make payment.
If the doctor is not charging for chat messenger, you can proceed to chat with them immediately.
C) Search Practitioner feature
Search for practitioner by keying in name or specialization or use our drop down list to look for health practitioners based on their specialization.
D) View health practitioner's profile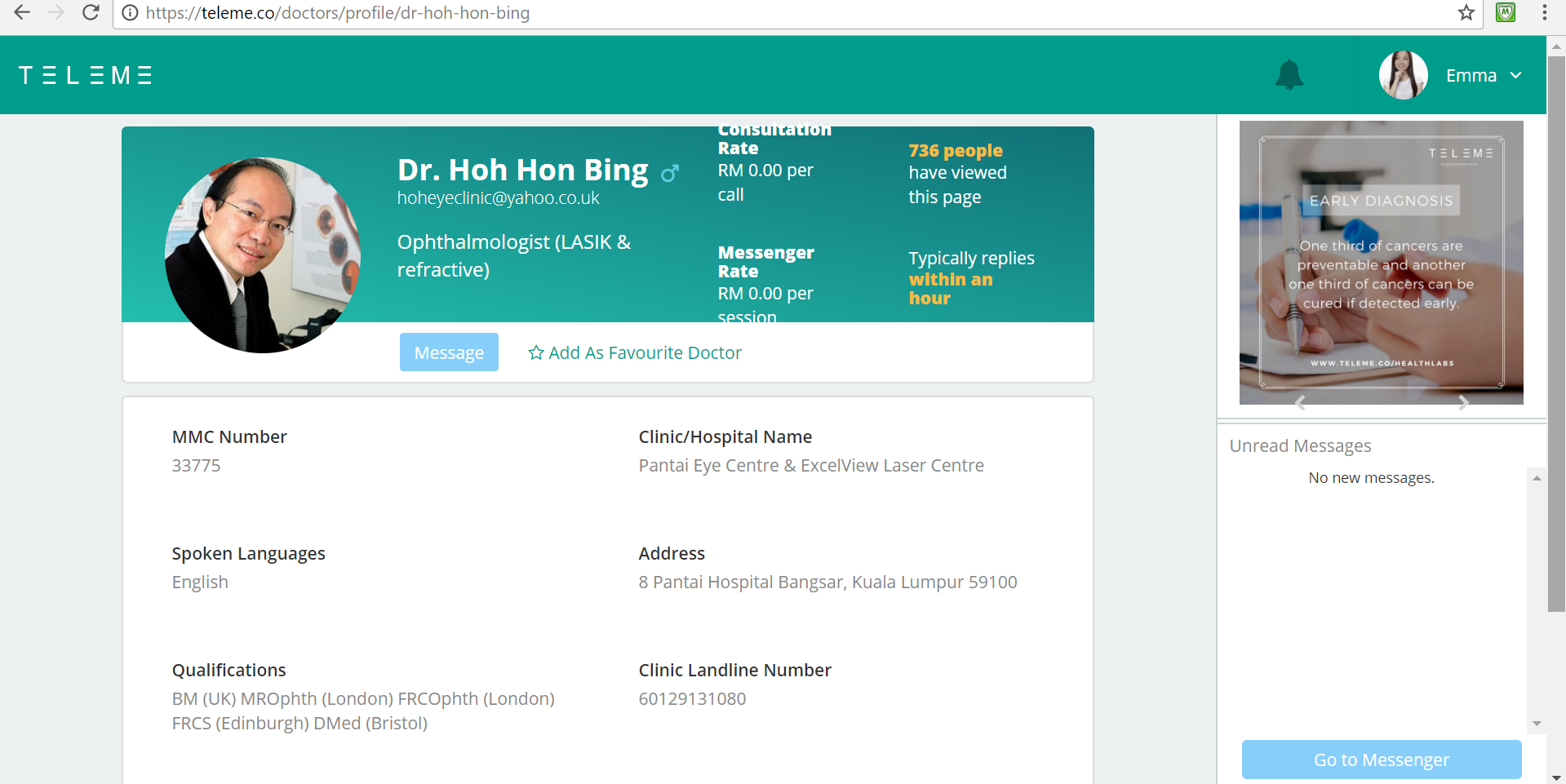 You can view each doctor's profile by clicking on "View profile" button. Here, you're able to see their MMC number, qualifications, medical interest, clinic/hospital name, spoken languages and consultation/messenger rate.
On the doctor's profile, you can message the doctor directly by clicking on the message button or add them as your favourite doctor.
E) Get medication feature
After your online consultation with a doctor on Teleme and if medication prescription is prescribed by the doctor, you can select Teleme's partner pharmacy nearest to you to order medication. Make sure that you've input your home address and identification number in order to receive your medication smoothly. Teleme's system will filter and show the nearest pharmacy first followed by the second nearest pharmacy based on your location. You can either opt to self-pick up at the nearest pharmacy which you've selected or opt for delivery (available in Klang Valley only).
F) Order Lab Package (health screening) feature
You can pick 4 types of health screening on Teleme: Diabetes, General Screening, Coronary Risk Factors and Forever Young Profile. To view on the description and benefits of the health screening and who is recommended for the health screening, click on view more under each health screening profile.
Check on the box on right of the health screening profile and proceed to place your order.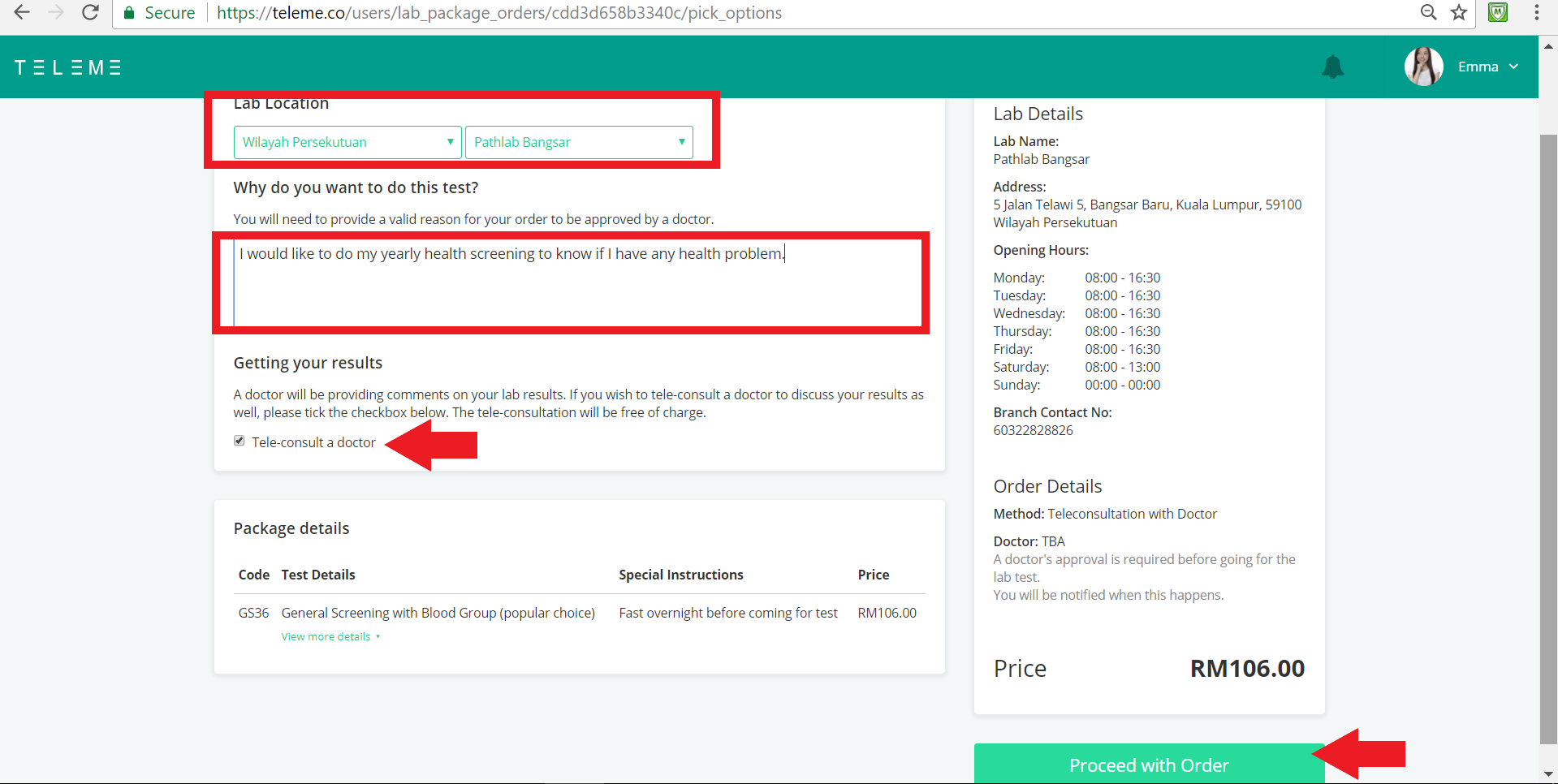 Once you've selected the health screening, pick the nearest Pathlab based on your location. Input your reason for it to be approved by a doctor. If you need clarification on which health screening to do, you can consult a doctor on Teleme or use our "Find me a doctor" feature and list your query and a doctor will reply to you.
Next, if you wish to tele-consult a doctor to discuss on your health result, please tick the checkbox "Tele-consult a doctor".
Proceed with payment on your health screening. You'll need to print a copy of the invoice to bring it to the selected Pathlab to do your health screening. Remember to observe the special instruction (ie fast overnight before coming to the test) and the opening hours of Pathlab on the order page. Bring along the hard copy of the invoice and walk in to the selected Pathlab to perform your health screening.